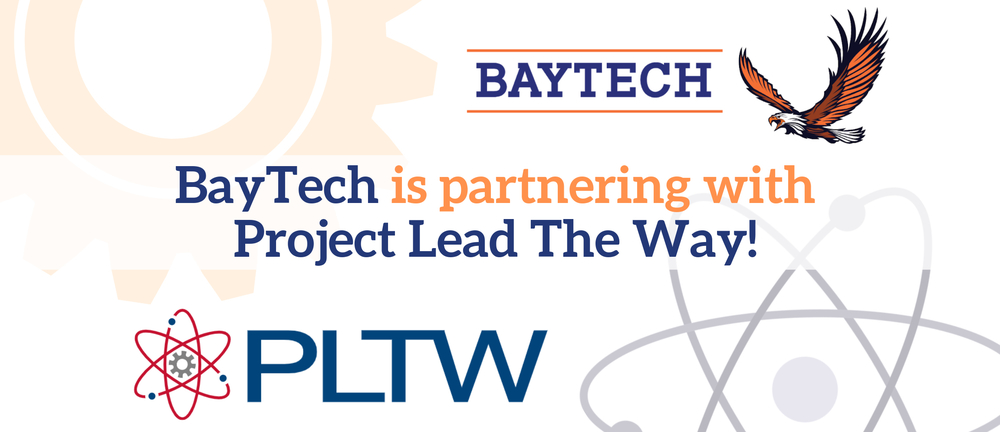 Project Lead The Way Comes to BayTech
Caitlin Emig
Thursday, August 29, 2019
"Through a combined effort of staff, students, parents, and community BayTech students will learn the necessary skills required for college and career readiness by engaging in a rigorous curriculum emphasizing STEM. Our students will demonstrate core BayTech E.A.G.L.E.S. values and be equipped with the skill sets required to take on challenges and opportunities in the 21st century." -BayTech Mission Statement
We are thrilled to announce that we are integrating Project Lead The Way (PLTW) into our curriculum! With our mission to emphasize STEM into our students education, PLTW offered a perfect opportunity for our students.
"PLTW provides transformative learning experiences for PreK-12 students and teachers across the U.S. We [PLTW] create an engaging, hands-on classroom environment and empower students to develop in-demand knowledge and skills they need to thrive. We also provide teachers with the training, resources, and support they need to engage students in real-world learning." - www.pltw.org
Our teachers Mr. Cagatay & Mr. Cetin participated in a PLTW training this summer to prepare them to integrate PLTW programs into their classes. Mr. Cagatay will be working with his middle school classes through the PLTW Gateway Automation and Robotics unit. This unit allows students "to learn about the history and impact of automation and robotics as they explore mechanical systems, energy transfer, machine automation, and computer control systems. Using the VEX Robotics® platform, students will apply what they know to design and program traffic lights, robotic arms, and more."
Mr. Cetin will be integrating the introductory until of the PLTW Computer Science Curriculum, Computer Science Essentials. This unit includes "major topics, big ideas, and computational thinking practices used by computing professionals to solve problems and create value for others." This course is intended to "empower students to develop computational thinking skills while building confidence that prepares them to advance to Computer Science Principles and Computer Science A." The PLTW Computer Science Curriculum is part of the AP + PLTW computer science pathway program which is a collaboration between PLTD and The College Board to allow students the opportunity to prepare and take AP courses and exams that provide an opportunity for advanced placement and/or college credit.
Stay tuned for updated on our students and their progress in these courses!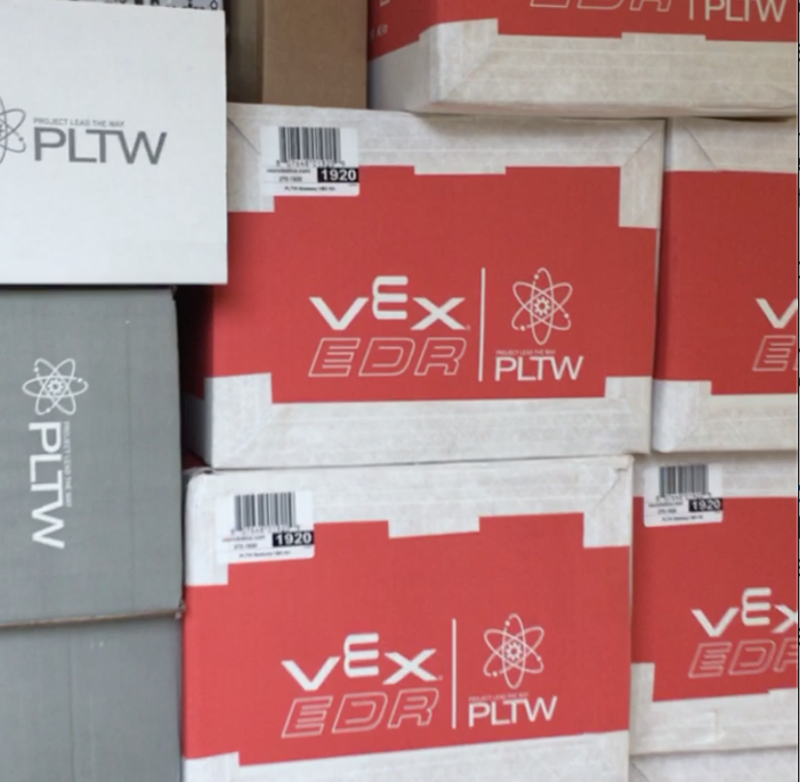 Photo: Part of our PLTW shipment, which arrived today! - Aug 29th, 2019