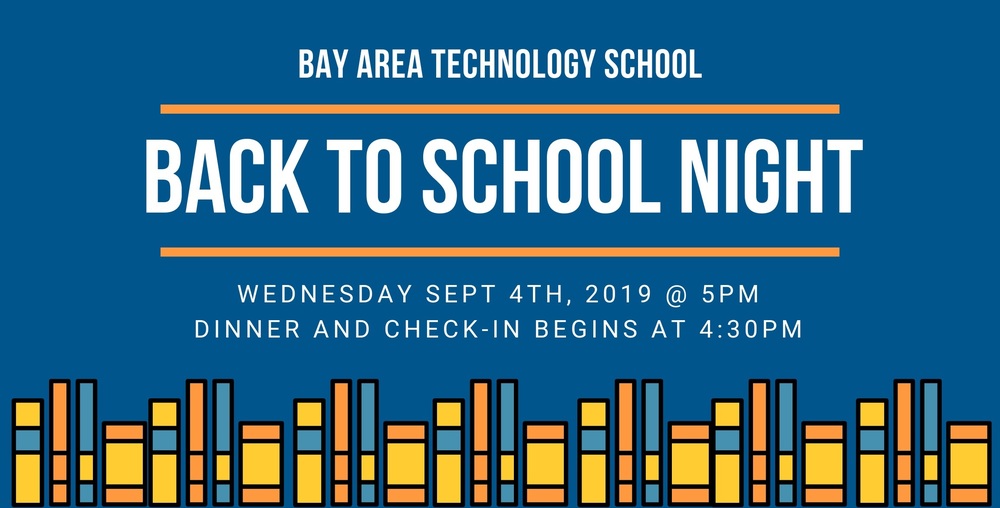 Back to School Night is Sept 4th!
Caitlin Emig
Thursday, August 29, 2019
Back to School Night is Wednesday September 4th, 2019 @ 5pm! Come join us for a night of free food, free BayTech gear, and a glimpse into your student's daily life at BayTech.
Check-in will open at 4:30pm in front of the Cafeteria doors where you will receive your student's schedule, which will direct you to the appropriate classrooms through out the night. Dinner will be provided from 4:30-5:15 followed by a short overview of the night. You will have the opportunity follow your schedule to meet with each of your student's teachers and receive free BayTech gear. The event is open to parents, guardians, families, and students. Chances for free dress passes and additional BayTech gear for students will also be a part of the night.
RSPV to let us know if you will be joining us through our evite & we look forward to seeing you then!
-----------------------------------------------------------------------------------------------------
¡La Noche de Regreso a la Escuela es el miércoles 4 de septiembre de 2019 a las 5pm! Ven y únete a nosotros para una noche de comida gratis, ropa de BayTech gratis y un vistazo a la vida diaria de tus estudiantes en BayTech. El check-in se abrirá a las 4:30 pm frente a las puertas de la cafetería, donde recibirá el horario de su estudiante, que lo dirigirá a las aulas apropiadas durante toda la noche. La cena se proporcionará de 4:30-5:15 seguido de una breve descripción de la noche. Tendrá la oportunidad de seguir su horario para reunirse con cada uno de los maestros de su estudiante y recibir equipo BayTech gratis. El evento está abierto a padres, tutores, familias y estudiantes. Las posibilidades de pases de vestimenta gratis y equipo adicional BayTech para estudiantes también serán parte de la noche.
¡Háganos saber si se unirá a nosotros y cuántas personas lo acompañarán y esperamos verlo en ese momento!